Back to List
Recordings & Publications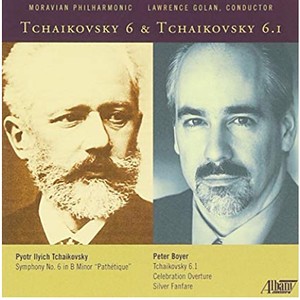 Tchaikovsky 6 & Tchaikovsky 6.1
Released:
December 1, 2011
Prestige Music Award Winner
The first release in the "Point-One Series" and the brainchild of conductor Lawrence Golan; this is an ongoing project consisting of the commissioning and recording of contemporary compositions that are musically linked to great masterpieces of the orchestral repertoire. The objective is to help create a body of high quality contemporary works whose chances for a viable future are increased by the natural place within orchestral concert programming that they have.
This recording of music by Peter Boyer centers around a commission by conductor Lawrence Golan to write a work to be performed in concert immediately following Tchaikovsky's Sixth Symphony. The idea was that the new work, while not intended to be in the style of Tchaikovsky, would share some musical material so as to be intrinsically connected to it and find a natural place in concert programming.
Peter Boyer, born in 1970, received his D.M.A. from the Hartt School. He studied with John Corigliano, then relocated to Los Angeles where he studied film music with Elmer Bernstein. His music has received more than 200 performances by 70 orchestras. His major work Ellis Island: The Dream of America received a Grammy Award nomination.

Peter Boyer, composer
Celebration Overture
Moravian Philharmonic, Lawrence Golan, conductor
Peter Boyer, composer
Silver Fanfare
Moravian Philharmonic, Lawrence Golan, conductor
Peter Boyer, composer
Tchaikovsky 6.1
Moravian Philharmonic, Lawrence Golan, conductor
Pyotr Ilyich Tchaikovsky, composer
Symphony No. 6 in B Minor, Op. 74 (Pathétique)
Moravian Philharmonic, Lawrence Golan, conductor
Related Links