Back to List
Recordings & Publications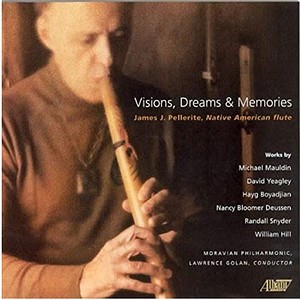 Visions, Dreams & Memories
Released:
January 1, 2007
There is a new generation of performing artists and composers who in recent years have been redefining the temporal and aesthetic dimensions of music, thus paving the way for a veritable cultural renaissance. Nowhere is this more evident than in the work of James J. Pellerite, one of the world's great virtuosi of the modern orchestral flute and no less a master of the Native American flute, which he now plays almost exclusively.
Former solo flute of the Philadelphia Orchestra and a distinguished soloist and teacher for many years, Pellerite in 1995 launched a second career as a Native American flute virtuoso.
His company, Zalo/JP-Publications, produces an important catalog featuring a wide selection of orchestral, chamber and solo works by living composers who share his vision of bringing the Northern Plains instrument firmly into the 21st century and to elevate it to the status of a significant new voice on the contemporary concert stage.
Should anyone still require proof that the Northern Plains flute is more than a quaintly happy find for tourists browsing gift shops for souvenirs conjuring the color and spirit of the American West, he/she has only to experience the invigorating musical diversity and consummate artistry represented by this remarkable disc.

Michael Mauldin
Dreams of the Child of Light
James Pellerite, native American flute, Moravian Philharmonic, Lawrence Golan, conductor
David Yeagley, composer
Wessi vah-peh
James Pellerite, native American flute, Moravian Philharmonic, Lawrence Golan, conductor
Hayg Boyadjian, composer
Sevan
James Pellerite, native American flute, Moravian Philharmonic, Lawrence Golan, conductor
Nancy Bloomer Deussen, composer
Night Forest
James Pellerite, native American flute, Moravian Philharmonic, Lawrence Golan, conductor
Randall Snyder, composer
Elegy
James Pellerite, native American flute, Moravian Philharmonic, Lawrence Golan, conductor
William Hill, composer
Meditation & Ritual Dance
James Pellerite, native American flute, Moravian Philharmonic, Lawrence Golan, conductor
Related Links