Back to List
Recordings & Publications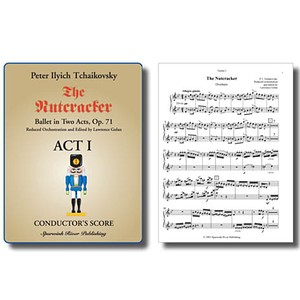 Tchaikovsky's Nutcracker Ballet
Label:
Spurwink River Publishing
Spurwink River Publishing is pleased to introduce a new set of parts with matching score for the music to Tchaikovsky's Nutcracker Ballet. This is a carefully reduced score by Lawrence Golan with an eye and ear for today's smaller orchestras, but with no sacrifice to the music. Through some clever and meticulous rearranging, all of the original parts are covered. Nothing is left out, but there are fewer wind, brass and percussion parts. The result: ensembles are better able to fit into orchestra pits and ballet budgets!
The matching score and parts are available either for purchase or for rental from
Spurwink River Publishing
96 Wells Road
Cape Elizabeth, ME 04107
1-207-767-3483.
Related Links